On December 4, 2008, the USA business magazine Forbes did include Rune's barf Bag Collection in the article "The World's Oddest Collections" ("odd" what do they mean?)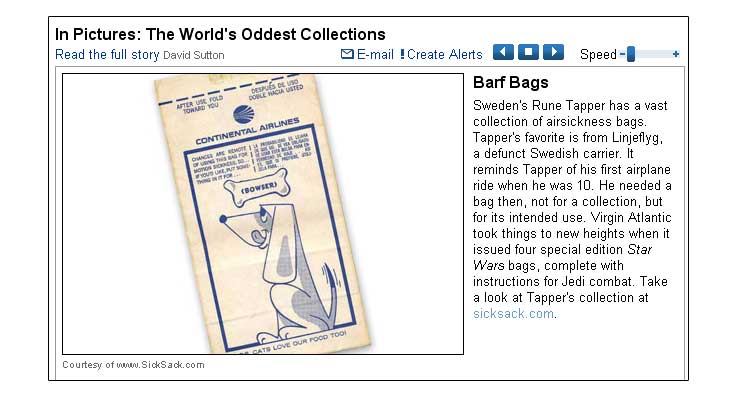 Clip from the article:
And collecting isn't just an American pastime. Kumla, a small town in central Sweden, is the world capital when it comes to airsickness bags. It took 15 years for Rune Tapper, a radio engineer, to acquire more than 1,200 barf bags from 474 airlines in 133 countries, which he showcases on his Web site, sicksack.com.
"I must be alone in the world collecting barf bags," he says in an e-mail. "You can't imagine how surprised I was when mail started pouring in from other collectors around the world with bag donations and requests for bag swapping."
Some airlines even print special edition bags. A recent eBay (nasdaq: EBAY - news - people ) search reveals a market for the bags. Though, Tapper, 58, collects only for fun. "My collection is only worth the paper the bags are made of," he says.
http://www.forbes.com/2008/12/03/odd-collections-hobby-forbeslife-cx_ds_1203odd.html
http://www.forbes.com/2008/12/03/odd-collections-hobby-forbeslife-cx_ds_1203odd_slide_6.html?thisSpeed=30000
---
TALK about your ill-gotten gains!

Readers may find this hard to digest, but a healthy number of people actively hoard airsickness bags. Yes, the sort commonly provided to passengers aboard planes in the event they (choose a euphemism) toss their cookies/lose their lunch/clear their tonsils.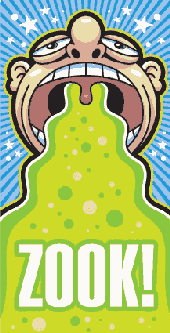 Not only does a fellow from Massachusetts maintain an Air Sickness Bag Virtual Museum at www.airsicknessbags.com (visitors are encouraged to become "patrons of puke" by donating to Steven Silberberg's cause), but the Guinness Book of World Records credits a Netherlands man, Niek Vermeulen, with having the largest collection: 5,180 and counting.
Unusual? Sweden's Rune Tapper certainly thought so when he set out to establish his first Internet site 15 years ago.
"The story is that in the '90s, people were making their own web pages and I wanted to start one of my own, too," Tapper says from his home in Kumla. "Most of the early sites I saw featured people's cats or dogs, but since none of those were getting many hits, I decided I needed something odd to set myself apart."
Tapper, a radio engineer, posted scans of five airsickness bags he'd kept as mementos of past trips.
He soon learned that his subject matter wasn't as idiosyncratic as he thought.
"Within days, e-mails began pouring in from collectors everywhere looking to swap," he says. "To the point where I now have over 1,000 bags and a network of agents all over the world."
Tapper's lot can be enjoyed at his present-day website, Rune's Barf Bag Collection (www.sicksack.com). There, 1,204 bags from 468 airlines in 132 countries are arranged in alphabetical order by continent of origin.
The true north strong and free is well-represented, thanks to specimens from Air Canada, CP Air and Canada 3000. (Zip, a defunct Canuck carrier formerly based in Calgary, avoided the whole two-official-languages debate by simply writing "Yuk" on its pouches.)
Aside from unanimously agreeing that bags should be unsoiled, people differ in the approach they take to collecting, Tapper says.
"There are some who only keep bags from their personal travels while others concentrate on specific parts of the world. Most require that their bags must be absolutely flat, with no wrinkles or stains."
And although vintage examples have fetched as much as $220 on eBay, the vast majority of hobbyists rely on trades to build up their cache. (Modern-day airsickness bags were invented in 1949 by North Dakotan Gilmore Schjeldahl. Tapper believes some of his bags go back 40 years, but that's hard to verify, he says, because so few harbour any type of date stamp.)

Über-rare novelty bags with no links to the friendly skies whatsoever are always in high demand, Tanner says. Those include politically charged sacks like the one issued by the Public Advocate of the United States that read: "Hillary Clinton Barf Bag: Socialized medicine makes me sick."

Some organizations have turned to airsickness bags as a form of advertising. A Florida credit union, for example, lured in new customers by giving away bags asking, 'Is your bank making you sick?' Even Hollywood has gotten in on the act: in 1974, theatre owners doled out plastic-lined receptacles to people lining up to see horror flick The Exorcist.

Certain airlines cater to collectors by releasing limited-edition bags. For a brief period, Germany-based Hapag Lloyd Express dispensed vessels that said, tongue-in-cheek, "Thank you for your criticism!" And in 2005, Richard Branson's Virgin Atlantic Airways issued a set of four airsickness bags promoting the Star Wars Episode III: Revenge of the Sith video game.

Nowadays, however, more and more companies are cutting costs by providing generic airsickness bags only.

"We are very, very upset by this," Tapper says. "Most North American airlines now use plain white bags -- it is a disgrace!"

If there's such a thing as a Holy Grail of airsickness bags, it would either be a souvenir from Air Force One, the jet used to transport the president of the United States, or one from the space shuttle.

"There is another, but I'm not sure if it actually exists," says Tapper. "In the motion picture Independence Day, there was a scene with a grey bag with a presidential seal on it. I'd love to get my hands on that."

Tapper, who stores his vast assortment in a series of shoeboxes, seems to sense the question that is coming next.

"Have I ever used an airsickness bag? Just once, when I was 10 years old and flew from Norrköping to Visby."

And what about others? How do friends and family react to Tapper's preoccupation?

"Are you kidding? My wife left me and my neighbours hate me," he says half-jokingly.

If you have any airsickness bags you think Rune Tapper would be interested in, feel free to contact him through his website. All donors net a mention in his Hall of Fame.

If you'd like to share the story of your collection with our readers -- anything from soup to lug nuts -- please contact David Sanderson at david.sanderson@freepress.mb.ca. His column appears bimonthly.

© 2008 Winnipeg Free Press. All Rights Reserved.

"Allas" weekly magazine July 18, 2002

"The Hamster of the Week" is a regular column about people collecting odd things. It is kind of silly, I don't feel like a hamster and did not ask to be in the column but they insisted. They sent out a professional photographer and made a telephone interview for this little clip. They leave the readers hanging, though, because they did not publish the link to my page! So, anyway, here it is:

"The HAMSTER of the Week"

Writer: Eleanor Martinsdotter
Photo: Börje Gustavsson

435 barf bags

Three years ago Rune Tapper, 51, wanted to publish a homepage on the internet. It must be about something odd and crazy. Otherwise no one will visit. Five barf bags was lying on his desk as memories from his travels. Odd enough Rune thought.

Since then bags from all over the world is pouring in. Today he has 435 bags. Rare bags are from now defunct airlines like Pan Am and old Swedish "Linjeflyg".

And the bag of your dreams?

- From Air Force One, the American Presidents airplane.
---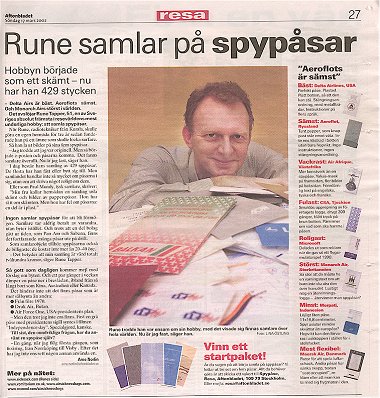 Aftonbladet Sunday March 17, 2002
Rune collects barf bags
The hobby started as a joke - now he have 429 bags
- Delta Air is the best. Aeroflot is the worst. And Monarch Air's the biggest in the world. This is revealed by Rune Tapper, 51, one of Sweden's most well known in the travel business most peculiar hobby: to collect barf bags.
When Rune, radio engineer from Kumla, was setting up his own home site on the internet three years ago, he was thinking of a subject that would attract surfers. He did publish pictures of his five barf bags.
- I though this was a totally original idea. But the e-mail start pouring in, and new bags where coming. There was collectors all over the world. Now I am caught, he says.
Today his collection contains 429 barf bags. Most of them donations or trades. But the collecting is not so much about the bags itself but more about to write something fun about them. Or as Paul Mundy, German collector, writes: This is what my wife calls "a bunch of stupid jokes and pictures of paper bags." She's right about the jokes. She's wrong about the bags: some of them are plastic.
No one collects barf bags to be rich. Collectors never pay any money for bags, they swap bag for bag. Despite some airlines are defunct like Pan Am and Sabena many bags are still in circulation.
As collector items barf bags are among the cheapest things: the cost is not more than 20 - 40 öre. This means my collection is worth totally two hundred krona, says Rune Tapper.
Almost every day there are e-mail with trade proposals. A couple of times a week a bag is received through the mailbox, sometimes as far as from China, Australia or Canada. However there is bags that are more rare than others:
Bags before 1970
Druk Air, Bhutan
Air Force One, the US President's plane.
- I'm not sure it exists. But a grey bag with the presidents seal could be seen in the motion picture "Independence day" Probably specially made for that picture.
Finally the inevitable question, have you ever used a barf bag yourself?
- Yes, once, when I flow for the first time in my life as a ten years old kid, from Norrköping to Visby. After that I have not even seen anyone use a barf bag.
Best: Delta Airlines, USA
Perfect bag. Plastic coating, flat base, so it can stand by itself. Closing mechanism with metal wire. Airline logo and instructions in several languages.
Worst: Aeroflot, Russia
Bad paper quality that will not withstand liquid. Bad print. Bottom not sufficiently glued together. No instructions, no closing mechanism.
Beautiful: Air Afrique, Vest Africa
More art than barf bag. A Yakas mask on front, more pictures on back. Excellent text in English, German and French.
Ugly: CSA, Check Republic
Tasteless repetition of airline logo fully 300 times, blue print on brown bag. Reminds about what eventually goes in the bag.
Fun: Microsoft
Handed out as promotion for MS flight simulator game in 1998.
Big: Monarch Air, UK
This bag is so big it have to warn children not to put it over their head. Strange enough a recycling logo - are barf bags recycled?
Small: Merpati, Indonesia
Ridiculous small bag, 11 x 16,8 cm. Does Asian people spew smaller chunks than Europeans? Fold together it can be stored in the ashtray instead of the seat pocket.
Flexible: Maersk Air, Denmark
Squares to play tick-tack-toe. Other bags have other games or "seat occupied", advertising or you can take the airline meal with you in the bag!
---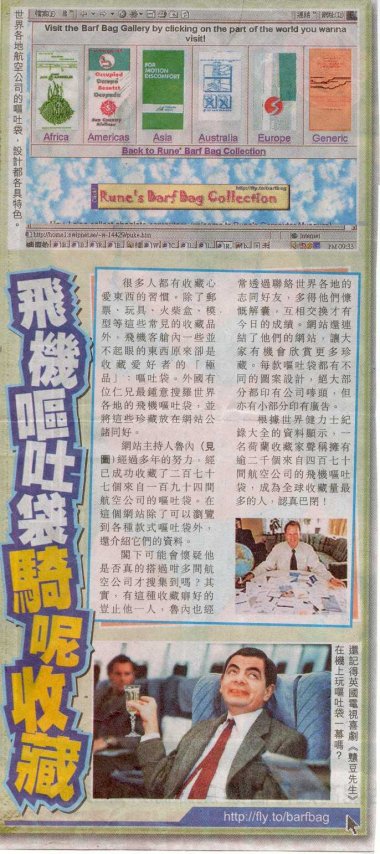 Sun Daily, a Hong Kong newspaper, had this feature on 30th April, 2001
My knowledge about the Chinese language is very close to zero. I have no idea what Sun Dayly are writing about my site.
English translation:
Sun Daily , Hong Kong
" Crazy Barfbag Collector "
Many guys will collect their favorite, except for stamps, toys, match box, models, some piss-ass stuff inside aircraft cabin are the nonpareil for the collectors , Barfbags. One guy at other country, he like collect Barfbag from every airline in the world, and he share his collection in the internet.
The owner of the website, Rune, he collected 297 Barfbag from 194 airlines with exertion. You can look through this site for his Barfbag collection and their information.
You may suspected did he travel with those airlines for collect Barfbags? Actually, he exchange Barfbags from another collectors in the world, and the site links to another Barfbag collection website, so you can enjoy more!
Each Barfbag have different design, most of then painted airline logo, and some of them printed commerical.
in the Guinness World Records, one Dutch collector professed he collected over 2000 Barfbag from 470 airlines, he was the maximum Barfbag collector, really brilliant!
Translation by GriffinLau, Thanks!
---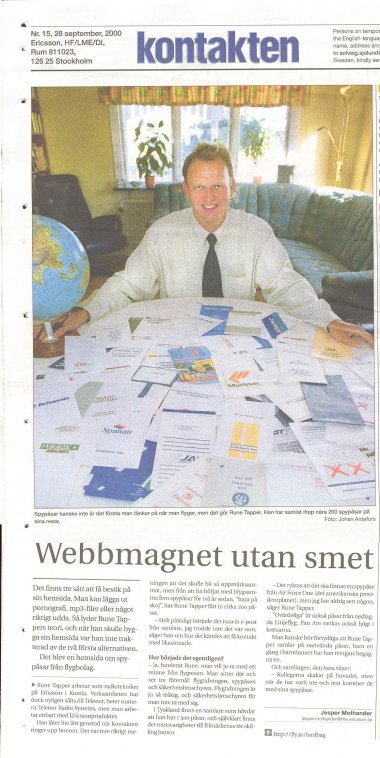 Kontakten 28 September, 2000
Website stays clean
There are three ways to get people to visit a website. You can either include pornography, mp3 files or something really strange, at least according to Rune Tapper's theory. When he constructed his website, he wasn't attracted by either of the first two alternatives. Instead, he decided to made a website about airline vomit bags.
Rune Tapper works as a radio technician at Ericsson in Kumla. That operation was recently sold to Telenor, however, and is now known as Telenor Radio Systems, even though the company works exclusively on Ericsson products. He sounds almost a little embarrassed when Contact calls him up. It wasn't really my intention that there would be so much attention, but after starting out with a mere five vomit bags two years ago, "just for fun," Rune Tapper now has around 200 bags. "Suddenly e-mail started pouring in from collectors. I couldn't believe it was true," he says about how it felt to be contacted by similar-minded people.
How did it really start?
"Well," says Rune contemplatively, "you want to have a souvenir from your plane trip. You sit there and see three things: the airline magazine, the vomit bag and the safety brochure. The airline magazine is really boring and you're not allowed to remove the safety brochure. In Germany, there is a collector who claims to have 1,500 bags, and sure there are rarities, just like in stamp collecting. "Rumor has it that there is a vomit bag from Air Force One (the American president's plane), but I have never seen any," says Rune Tapper. Bags from the former Swedish Linjeflyg airline are "priceless." Pan Am bags are also highly valued among the ranks of collectors. One should perhaps clarify that Rune Tapper collects unused bags. He has only been forced to use one once, when he was a child. And his collection just continues to grow: "My colleagues just shake their heads, but when they have been out traveling, they bring me their vomit bags."
Jesper Mothander
jesper.mothander@lme.ericsson.se
http://flytto/barfbag
http://www.ericsson.com/about/publications/kon_con/kontakten/kont15_00/k15_32.shtml